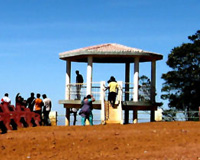 Yercaud is a quaint hill station, snuggled cosily in the Servarayan range of hills in Tamil Nadu. Located in the Eastern Ghats, at an elevation of 1,500 metres, Yercaud is famous for its salubrious climate round the year. In Tamil language, the name "Yercaud" means "lake forest". This peaceful hill resort is perched amid coffee plantations, orange groves and thickly forested slopes. If compared to other hill stations like Ooty or Kodaikanal, Yercaud is less expensive and that's why it is also referred to as "the poor man's Ooty".
The highest point of Yercaud is marked by the Servarayan temple, situated at a height of 5326 feet. Consequently, the Yercaud hill area is known as Shevaroy Hills. It is believed that these hills were part of the ancient megalith-builders' domain that extended from Cornwall through Brittany and Iberia to India. A few of the original forests that still exist in the Yercaud hills feature numerous endemic species of flora and fauna.
Yercaud has many places that could be of tourists' interest. And the most famous among them is Yercaud Lake, which is cloaked in lush greens and mystical woods. Anna Park is another attraction that is ideal for kids. Killiyur Falls, a 300 feet high waterfall, boasts of charming milieu. Moreover, Summer Festival - the annual festival of Lord Servarayan - is the much-awaited event of the hill-station that features a 7-day exhibition of flower shows, dog shows, boating races and a village fair.
Yercaud experiences a pleasant and healthy climate throughout the year, which makes it perfect to visit at any time of the year. Around April there are enjoyable showers, which bring the coffee bushes into blossom. During the monsoon season from June to August, it rains heavily, while the winter season from November to February tends to be misty and cold. Hence ordinary cotton clothing is preferred during the summers, light woollen clothing is desired during the winter months. In short, Yercaud is the place to spend vacations in a peaceful and serene environment away from the hustle and bustle of the city life.